Posted on 4th Jul 2012 @ 7:24 AM

When planning to visit and exhibit at a craft fair, exhibition, trade show or arranging a table for a reception area in a hotel or school, you need to think about purchasing a printed table cloth to complement your products or information.
A table cloth printed with your logo or branding is an easy way to add style to your stand without breaking the budget, and it will make a big difference to the overall look of your display.
The most popular table used for exhibitions or trade shows is the 6ft folding exhibition table. To improve the look of your table display, a great enhancement is to use a printed table cloth which will cover the length of the table with a drop on all sides. The colour or colours you choose will be your decision, but most people like to use their personal logo or the name of their company or society on the cloth. Ensuring your colours will stand out will help attract the visitor to your display, along with having your logo or the name of your company or society on the front drop of your printed tablecloth.
A table cloth is a versatile marketing solution ideal for all sorts of exhibitions and events.
With a wide range of colours on offer, you can create an enticing display that perfectly matches your brand image. Printed table cloths just finish off a display stand and look extremely professional when boxed and not overcrowded.
With a custom table cloth, you can add graphics, your business name/logo or even your contact details. This helps to entice visitors to your stand to find out more. It's a simple but effective way to promote you and your brand.

Why Choose XL Displays For Your Tablecloth?
XL Displays offers branded table cloths with no artwork set up fee and no minimum order quantity.
We print our custom printed tablecloths in house so we have complete control over the print process. One of our design team will check your logo before it goes to print. We then quality assure every table cloth before it is packed and sent out with next day courier delivery. This ensures that your table cloth will be of the highest standard possible before it leaves for delivery. With our next day courier service, you can ensure you are fully covered for those last minute exhibitions.
All of our printed table cloths are fully hemmed and overlocked to ensure a high quality product which improves the drape, finish and feel of the table cloth. The linen fabric has anti stain, anti-crease and colour fast inhibitors fused within the weave of the fabric, ensuring that your table cloth has durability and will be in perfect condition no matter how much of a rush it is packed away in.
Our full print tablecloths are printed in full colour using the latest dye-sublimation printing process. This ensures that your graphics will not fade, crack or peel, enhancing the table cloths durability.

Our Tablecloth Range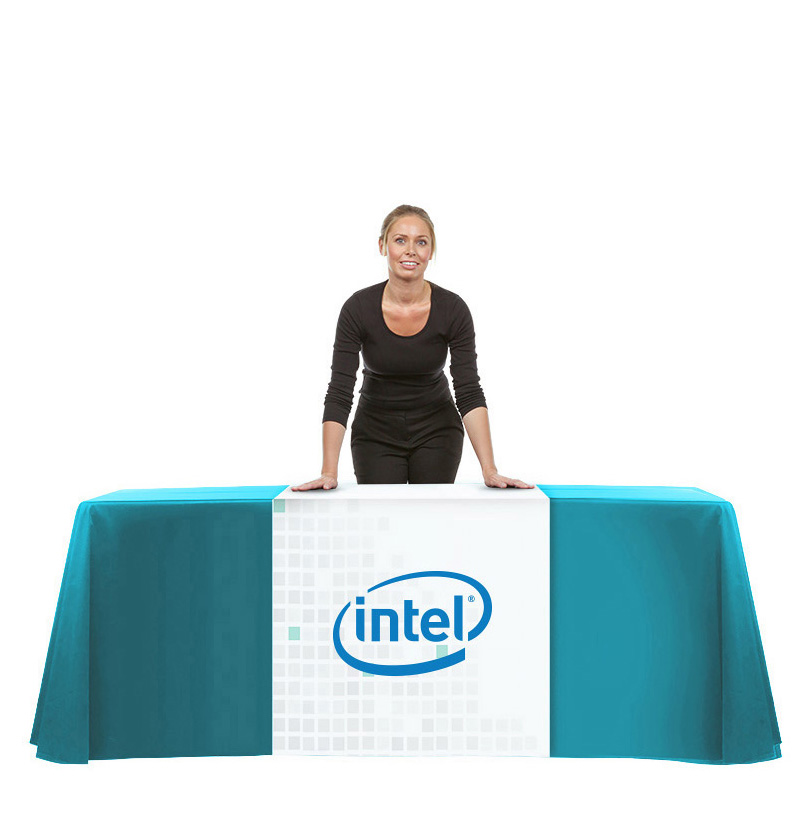 The fully printed tablecloths offer unlimited artwork options. With edge to edge printing, they offer maximum brand exposure. Full print means the custom table cloth is printed all over with your artwork, image or design. This provides unlimited design potential.

The most popular sizes of table cloths are 1780mm x 2750mm to suit a 5ft table and 1780mm x 3280mm to suit a 6ft table, although printed table cloths can be made to order. The table cloths are generally made from a hardwearing polyester and cotton mix and are hemmed to ensure that the product is of the highest quality. You are able to have the colour of your choice and if your colour is non-standard, you are able to have your own pantone colour, we have 19 in stock colours and 8 non-stock colours available. The table cloth is machine washable at a low temperature on a short wash cycle and you are able to iron the cloth on the reverse. Striking logos can look stunning on a table cloth with a mix of the right colours.
Custom printed table cloths are an ideal solution for businesses looking to extend their branding further. Supplied with a printed logo on the front on the cloth and available to fit either a 5ft or 6ft table. They are cut to reach the floor at the front and sides of your table and hang down 30cm from the back, allowing you generous leg access when sitting behind the table plus giving you easy storage access under the table, perfect for storing leaflets and brochures for later on in the day.
The tablecloth and roller banner bundle is a popular choice for businesses as it provides a complete exhibition stand which is ready for immediate use. The kit includes 2x grasshopper roller banner and a 5ft tablecloth printed with a logo. We also supply a smaller version with 1 roller banner and tablecloth bundle.
Forn further information about our printed table cloth range, please call us on 01733 511030.