Posted on 30th Oct 2017 @ 1:02 PM
It can be a tough job to manage an exhibition budget and maximise the ROI for your business. It's not a job for the faint hearted.
There are so many things to consider and include in your budget, this includes stand design and graphics, stand electrics, lighting and internet connections. It can also include flooring, furniture, giveaways and promotional products for your exhibition stand as well as data captures for acquiring new business leads.
An area which is often left out or forgotten about is hotel, travel and food costs, these can be expensive costs which add up and may push you over your budget so keep them in mind in the early planning stages.
Start with A Plan
The success of an event comes down to the planning, execution, follow up and everything in between.
It is important to research an event before booking, to ensure the one you plan to attend is the right choice for your business. Without carefully researching, and selecting the right event you could end up making a costly mistake.
It's no use just booking any exhibition. If you have the budget to exhibit multiple times throughout the year then consider the potential return you could get if you select the exhibitions that best suit your business, objectives and goals.
Setting good objectives for your exhibition will determine how effective and successful your event ends up being. A good set of exhibition objectives will help to keep the team on track and working towards a common goal.
Exhibitions can be a rewarding expense to any business, so objectives are there to make sure efforts are maximised, so the event is a successful one. They also help you to analyse what went well, what didn't and how to improve for the next event.
For help setting your exhibition objectives see our article How to Set Exhibition Objectives that Work.
Once you've chosen your event and set your objectives, you need to select a display solution that will make an impact and make you stand out.
Choose the Right Display Solution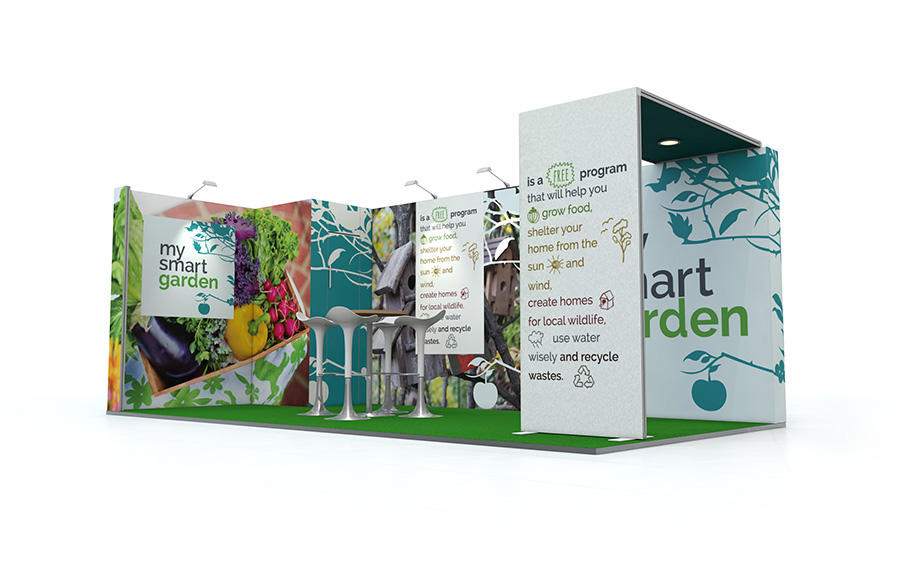 Once you have booked your stand space you need to decide how you are going to fill it. What kind of display stand are you going to have? Do you have an existing kit you can use, or will you need something new?
With so many different display solutions available how do you select the right one for your event needs?
That's easy – talk to our expert sales team.
Our range of portable exhibition stands offer some of the most versatile and cost-effective display options on the market. These are available in a wide range of sizes and configurations that are quick and easy to assemble, disassemble, transport and store.
Our portable exhibition stand range includes, pop ups, roller banners, fabric exhibition stands and Twist banners.
Our modular range of exhibition stands offers versatile event solutions that can grow alongside your business and marketing needs.
Add bigger graphics and components at a later date without the need of replacing the whole display kit. Our modular range includes Centro Display Systems, Twist Flexible Display Solutions, Linked Pop Exhibition Stands, X-GLOO and Linear Vector exhibition stands.
Bespoke exhibition stands are completely unique to you – simply give us a detailed brief of your ideas and our expert stand designers will do the rest. We can create 3D renders of your exhibition stand design which will bring your ideas to life.
Compare Quality & Price
Research your display product and get multiple quotes. Exhibition display equipment can be expensive so it's important you get the best version you can for the best price.
It can be hard to choose which supplier you order with, as there are so many displays which are virtually the same.
While price is an important factor, it's not always a good idea to go for the cheapest option as sometimes quality is compromised.
We at XL Displays strive to be the most competitive on the market without compromising on quality for our customers. Our price promise means we will match a genuine like-for-like quote to ensure our customers get the best value.
Our award winning customer service and after-sales care ensures customers are looked after at every stage of their buying journey with us, ensuring they come back to us for future requirements.
Maximise Your Space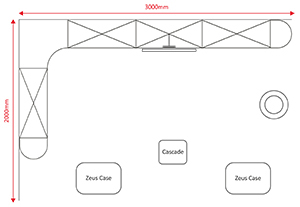 Everyone knows that exhibiting can be a great expense. It all starts with the cost of your exhibition space, which can be the biggest initial layout.
It's important you make the most of your valuable floor space so not only do you have the room for an amazing display, but, you have enough room for visitors to enter your stand and engage with your brand.
This doesn't mean you need to cram as much in as possible, sometimes less is more. It's more about making use of clever graphic design and useful accessories.
Read our 10 Top Tips for Exhibition Stand Design for help with your exhibition stand design.
Free Event Promotion
Publishing features in industry magazines can be very expensive, and not entirely worth the money.
Social media is the perfect platform to promote your presence at a show. Make use of your website and your email marketing platform to shout about the event.
The more people who know about your event, the better for you. Pre-event promotion doesn't have to take a penny out of your exhibition budget.
Read Using Social Media to Boost Exhibition ROI to see how you can effectively use this free marketing platform to your advantage.
Here at XL Displays we want you to get the best available exhibition stand system for your money. We know that budgets are often tight and as a successful business you need to be able to stretch your money further and further.
The good news is that we can help you, whatever your budget, without compromising quality. For more information on our exhibition stands, pop up stands, fabric display stands or any of our other products, please contact us or call us on 01733 511030.