Posted on 26th Mar 2015 @ 10:15 AM
A branded tablecloth is a versatile and low cost marketing tool that is not to be overlooked. From Start Ups to large corporations and from local exhibitions to international product launches, the uses for a branded tablecloth are endless and can be taken advantage of by anyone.
At XL Displays all of our tablecloths are printed on UK woven quality cloth made from a hard wearing 205g polyester fabric with a brushed cotton finish and are available in 29 vibrant colour options. Standard size for our tablecloths is 1780mm x 2750mm which fits a standard 5 foot trestle table, however we offer bespoke sizes upon request as well as full colour printed tablecloths in custom sizes and branded table runners.
Here are 5 reasons why they are great for exhibitions:
For only £60 you can have a tablecloth with your company logo printed on the front that reinforces a professional and powerful presence at any event you attend, this is a sure fire way to increase the amount of business leads you acquire. Our tablecloths are built to last so for little outlay you can expect a high return on investment.
Despite our tablecloths being hard wearing they are incredibly light weight and can comfortably fit into any luggage you are already taking to the event, no special cases or bags required!
All of our tablecloths are easily maintained, taking only a short amount of time after an exhibition to prepare it for the next one. To keep your branded tablecloth in pristine condition, use a low temperature and short wash cycle and iron on the reverse of the cloth on a low heat setting to keep the printed logo in good condition.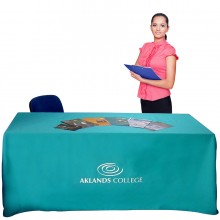 Branded tablecloths are primarily used at trade shows, exhibition stands, craft fairs and also used in a variety of public buildings such as schools colleges and universities. However they are ideal for many other situations such as weddings and business conferences. You can also use the underneath of the table for storage as the tablecloth will drape to the floor hiding anything under the table, this is ideal as many exhibition spaces are lacking in storage.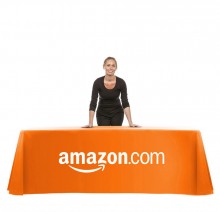 As well as being useful for a variety of different situations they are also available in a variety of styles, for example here at XL Displays we offer standard printed tablecloths, full printed tablecloths for a larger more eye catching logo and finally table runners for a multi-tone style.
Why choose XL Displays for your Branded Tablecloth?
Quality Assurance – We print our tablecloths using UK woven signature plus tablecloths that are commonly used in the hospitality and hotel industry. The crisp white table linen you see in 5-star hotels and high class restaurants, those are ours and that's the quality you will receive! All of our tablecloths are overlocked to prevent fraying and improves the drape of your cloth. You can be assured that your brand and logo will be produced to the highest standard, just send us your logo and let us do the rest!
Low Price Guarantee – We regularly review our pricing in order to ensure it is as competitive as possible with no compromise on quality. We offer a price promise and will match a competitor's price on a like for like product.
Free Artwork Check
Quick Turn Around - We dispatch your tablecloth in 72 hours after artwork proof sign off on next day UK courier delivery. We can supply you with a complete exhibition set up including a printed Pop Up Stand, Branded tablecloth and 6ft folding table to finish your stand all within 72 hours of order placement.
Customer Service & After Sales Care –
Quantity Discounts Available – For large orders we provide custom pricing and terms.
No Minimum Order – Unlike other companies our printed tablecloths have no minimum order, if you only want one why should you have to pay more?
No Logo Setup Fee or Extra Charges – The price you see if the price you pay, we don't charge for any logo setup or artwork. We have a dedicated team of in-house graphic designers and a pre-flight studio to work on your artwork giving you support and guidance throughout the whole process.
Free PDF Proof – We will send you a free PDF proof for each order, we won't print and manufacture until you are completely happy with the artwork.
It really is that simple, ordering a branded table cloth shouldn't be difficult and we strive to make the process easy for you.
Our branded tablecloths are simple to purchase via our website or alternatively you can call us on 01733 511030 or Contact Us for more information.