Posted on 19th Jan 2015 @ 9:59 AM
At XL Displays, we have the UK's most complete range of office partition screens at prices starting from £55 with just a 24-hour dispatch. But how well can office screens truly help acoustics in the workplace? There are numerous ways that sound can be minimised to help your busy workers concentrate.
Office Partitions Can Help Reduce Sound
Research shows that noise in offices can distract workers and reduce productivity and accuracy of work. Introducing office screens to a workplace can help reduce sound by either blocking or absorbing it. The best quality screens, such as our Premium Acoustic Office Screen range, do both.
Sound can be controlled in two ways:
Absorption – which deals with reverberation within a space

Insulation – which deals with the control of sound from one space to another
You may also opt for our ECO Acoustic office screens which is built to reduce noise pollution. In this range we offer straight screens, wave screens and desk screens. They are 35mm thick and covered both sides with a pinboard layer and foam-backed, woven fabric. This combination of materials and construction gives the screens good acoustic qualities. All our partition screens can be joined to others in the same range. Each screen includes two linking strips - one for linking in a straight line and one for linking at a 90o angle. But if you want to use the screens on their own we also include two finishing strips which give the edges a flush finish.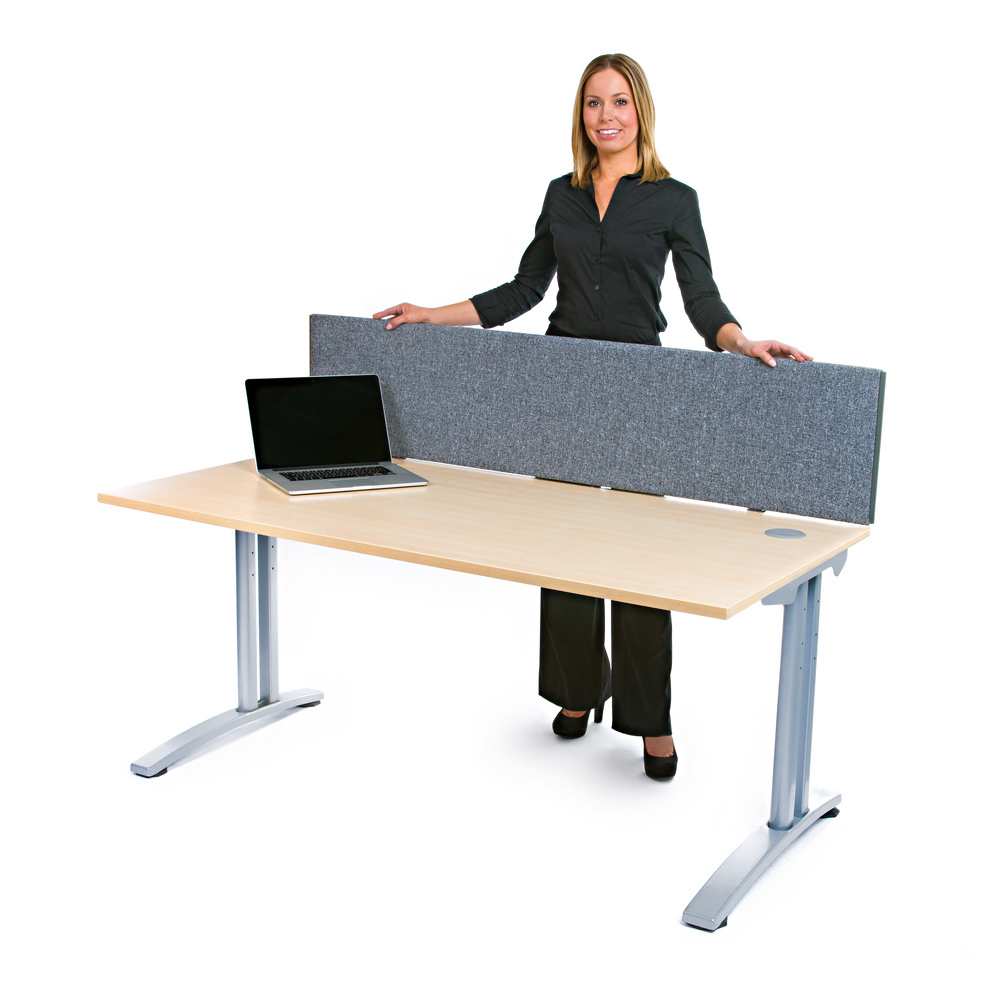 Sound absorption
Hard surfaces will reflect and potentially amplify sound and increase reverberation times. Introducing soft surfaces to an area will absorb sound. Generally, the softer the material, the better its absorption capabilities.
Our acoustic office partitions are covered in thick, sound absorbing foam with a top layer of woven fabric to maximise sound absorption.
Sound insulation
Sound will travel through solid objects. To control the movement of sound from one place to another you can introduce something to block the sound. This barrier should be dense enough to stop sound travelling through it and sizeable enough to minimise sound travelling over and around it.
Office screens act as a sound barrier. Most office sound from people is emitted at desk at sitting head height – between 750mm and 1200mm above floor level. The average of these heights is 975mm. An office screen that is 1800mm high would be 825mm above the average sound source whereas a 1200mm screen would be 225mm above the sound source. Therefore, an 1800mm high screen is, on average, three times more effective than a 1200mm screen.
Our Premium Acoustic office dividers are 62mm thick, with a large void in the middle between the surfaces. To reduce sound travelling through something you need to increase the distance between the two surfaces. This void along with the materials used, including 12mm thick outer layers and thick sound absorbing foam, makes them our best acoustic office screens. They come in a range of sizes – the highest being 2100mm and the widest being 1800mm, so they are large enough to act as an effective sound barrier.
Some Helpful Tips To Improve Office Acoustics:
Introduce high quality office screens, such as our Premium Acoustic range, to protect staff from distracting noises and enhance privacy

For best results consider the position, height and quantity of partitions used

Stop sound reflecting off hard surfaces by introducing absorbent or non-reflecting materials

Arrange office staff so they are back to back rather than facing each other so that sound is travelling away from them rather than travelling to them

Rearrange furniture for maximum effect

Create cubicles around desks with the screens as tall as possible

Position machines around the outside or at one end of the room with people towards the middle or other end of the room

If possible position office screens up close to machines that are noisy
XL Displays sells a wide range of office screens and office partitions designed to help reduce noise in the workplace. Our screens vary in terms of price and acoustic ability but all are high quality products which will meet your requirements. Perfect for use in offices, call centres and classrooms. They are easy to order online so to find out more and view our office partition screens, visit our desk screen range.
Do you require something a bit different or to a bespoke size? Please call our sales team on 01733 511030 who will be more than happy to help or Contact Us.