Posted on 16th Apr 2018 @ 10:51 AM
Display boards are a favourite for exhibitors at a wide range of events due to their versatile, lightweight and easy to use properties.
If you've recently visited an exhibition, trade show, job fair or even a display of community projects at your local community centre, then you're sure to have seen these marketing favourites in action. These portable display solutions are the ultimate marketing 'go to' products that can be used time and time again.
Why opt for display boards?
Versatility
Display boards are extremely versatile and can fulfil many display requirements in almost any environment. They are ideal for promoting your product or service at an exhibition or trade show in a professional and interactive way.
Display boards can also be used to showcase the latest news or information in offices, schools, public buildings, reception areas and even transport hubs, in a much more dynamic way than the traditional method of leaving leaflets on tables.
Flexibility
Our wide range of display boards offer maximum flexibility to meet your display needs. For ultimate flexibility, browse our modular Panel and Pole Display Boards. This unique panel and pole system can be used in different configurations, shapes and layouts to suit your needs. These panels can be mounted either portrait or landscape and the posts can be angled to create unique shapes including zig-zag, curved or straight configurations – an excellent choice for art exhibitions and photography fairs where you may want to showcase your work in a unique way. Panel and pole display boards are covered both sides with loop nylon fabric which means you can easily attach your marketing material to these boards using male 'hook and loop' velcro.
All of our display boards are manufactured double sided to give you optimum room for displaying your marketing material and maximum visibility area – ideal if your stand will be open for view on both sides at events and exhibitions.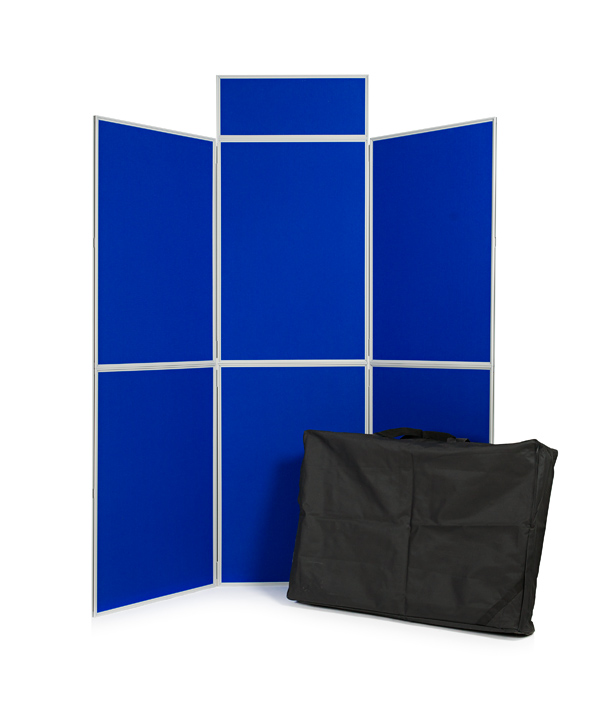 Our folding display boards are our most popular range of display boards ranging from our smaller display boards, junior and senior table top displays to our 8 panel folding display board. These folding display boards can be set at an angle to maximise the space you have available. Our folding display boards come in a choice of 13 luxury foam backed loop nylon fabric options which means displays can easily be attached using male 'hook and loop' velcro.
Both our PVC Folding Display Boards and our Aluminium Folding Display Boards come with the option of adding a header for additional branding.
Freestanding
As well as our panel and pole display boards and our folding display boards, we also have complete freestanding jumbo display boards that provide a large, freestanding display area. If you're a novice exhibitor that's exhibiting at an upcoming event but don't have a shell scheme stand or a bespoke stand in place, our display kits allow you to configure your own exhibition space that's unique to your needs.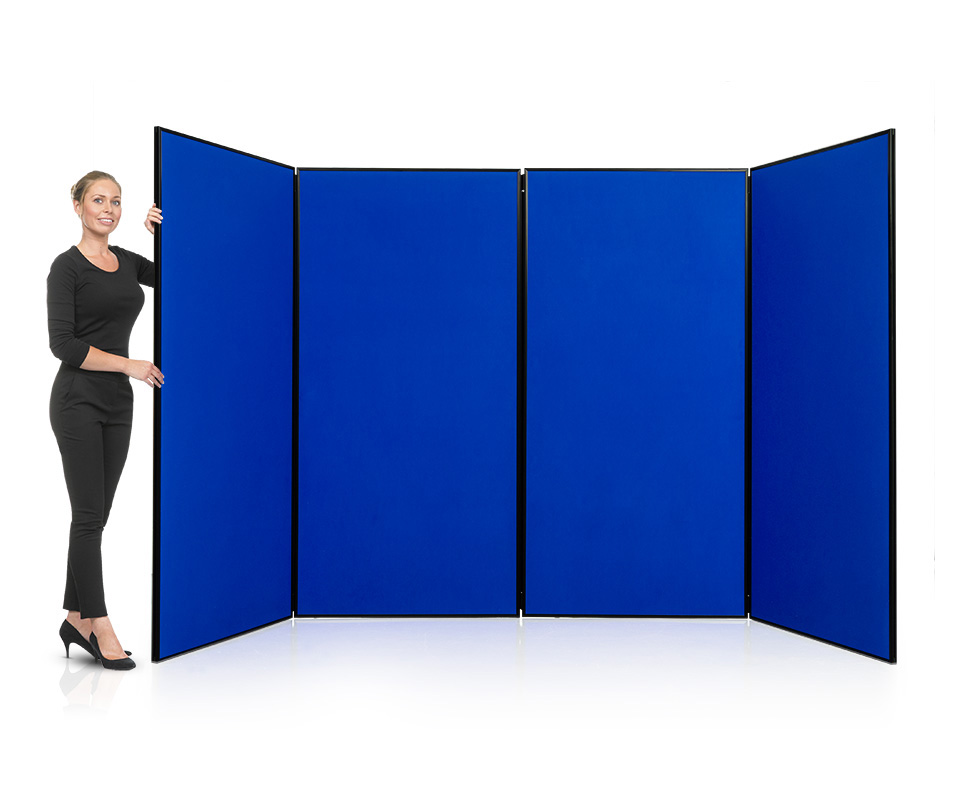 Pinnable
To give even more choice to our customers, we also offer Pinnable Display Boards. This range of folding display boards are suitable for use with pins or Velcro. Each panel of these display boards are thicker than our standard boards so can be used with pins without causing damage. These pinnable display boards are available in a range of sizes and come in a choice of 13 luxury foam backed loop nylon fabric options.
Lightweight and Portable
Its common knowledge that lots of exhibition equipment is advertised as portable even though they can be extremely hard to store and transport. Our display boards however really are lightweight and easy to carry, store or transport. For example, our Junior Tabletop Display board weighs approx. 3.5kg – a lightweight solution that can be carried by one person.
All of our display boards come with a FREE carry bag inclusive of price! This means that your display board will be protected during transport and storage and can easily be carried around between events or venues.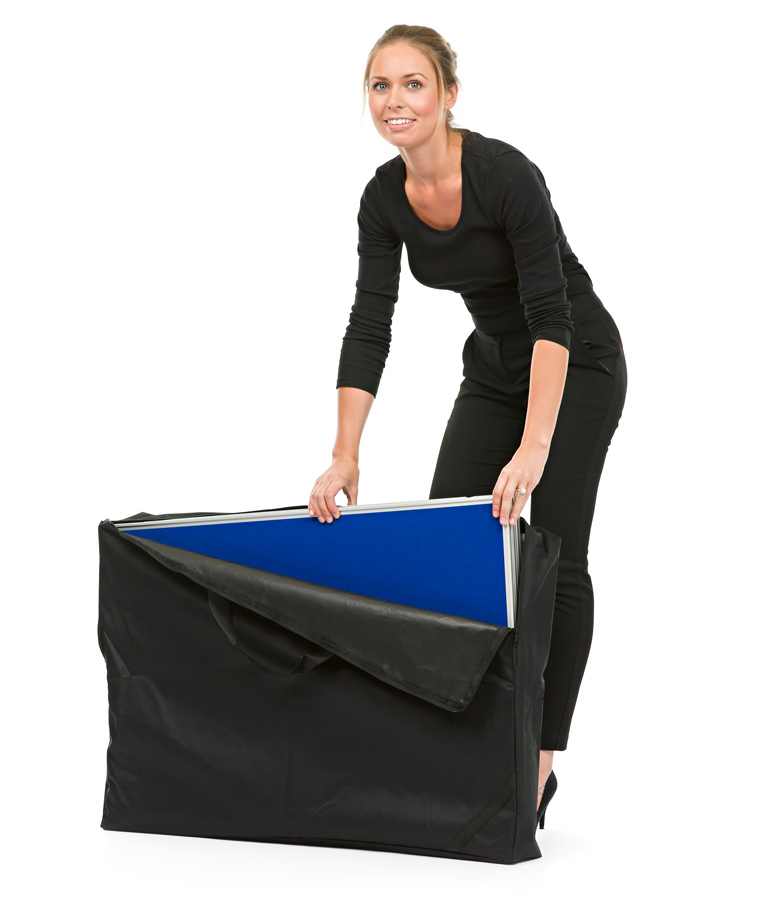 Easy to Assemble
Being the UK's biggest display board's manufacturer and retailer, we have worked on finding the best display boards solutions for our customers. All of our display boards on offer are extremely easy to assemble.
Our folding display boards are hinged by 2 sections which simply unfold and clip together.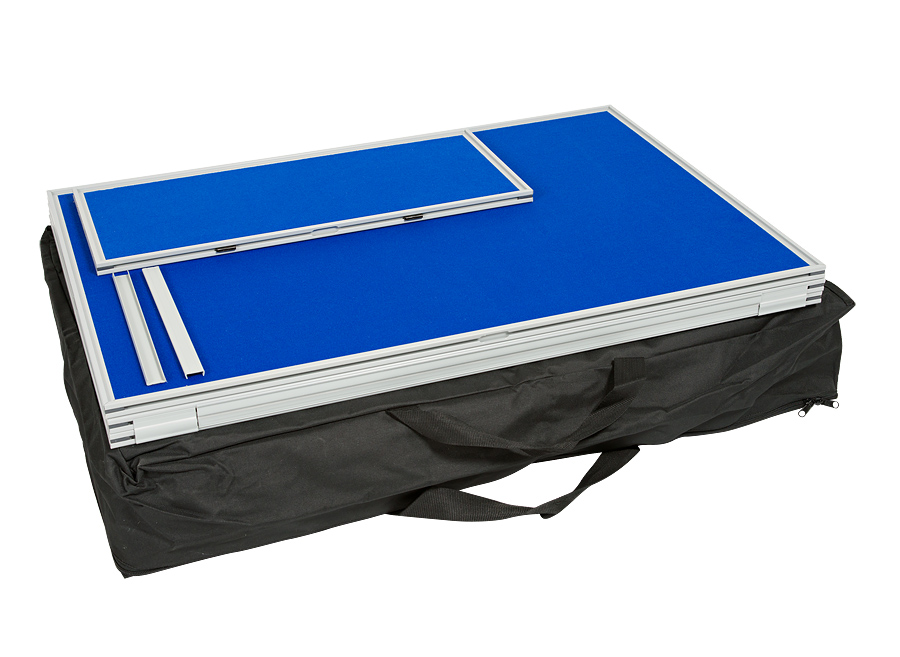 Panel and pole display boards come complete in a kit and clips are used to attach the display panels to the poles. This means they can be set at any angle and height position to the pole.
No tools are required to assemble our display boards and they can easily be assembled by one person in minutes. This makes them an ideal choice for use at exhibitions, trade shows, craft fairs and office areas.
Customer Photo's
Over the years, we have helped many clients with finding the correct display board to suit their needs. Here are just a few of our customers with their display boards in action!
These are just some of the many benefits of our display boards which show why they are a favourite marketing solution for a wide range of events.
If you have an upcoming event and are unsure of what exhibition material will meet your needs, please contact us call our sales team on 01733 511030 where one of our expert team will advise you in choosing the right display option.