Posted on 22nd Feb 2018 @ 2:40 PM
Where: Event Production Show 2018 at London's Olympia Stadium.
When: 28 Feb – 1 March from 9:30 – 5:30pm.
Stand Number: B20E
The event production show is the biggest exhibition of its kind in the events industry. EPS proudly holds the title as the UK's leading event for the live events sector. Boasting an array of visitors including event organisers, EPS is the prime location for event professionals looking for the latest innovative event solutions in the industry.
We are tremendously excited and proud to be exhibiting at The Event Production Show for the second year running. This year we are going bigger than ever before – a larger stand, a bigger product range and a huge competition you don't want to miss!
Here at XL Displays, we are dedicated to finding the latest display solutions in the highly competitive events sector. When spending large budgets on live events, we understand the sheer importance of having the latest innovations to keep your event up to date and attractive to visitors. We work endlessly throughout the year to find the latest solutions for our customers so that we are your first point of call for all exhibition and event display needs.
UK Exclusive Ranges
We are proud to be the sole UK distributor of the X-GLOO Inflatable Event Tent and Signus ONE Inflatable Marketing Pavilion. This year we are pleased to be launching a new addition to our premium display portfolio, Adder Retails Communications.
Adder Retail Communications is a premium range of retail displays which have been designed for the world's biggest brands. The simplistic Swedish designs are unique and innovative and create exciting and enticing visual experiences for your brand.
The patented designs help build your brand identity and simplifies your marketing message to create incredible results for your brand.
Design to create an experience – for the customer, the brand and the retailer
We are very excited to be showcasing this innovation at EPS 2018 for the very first time.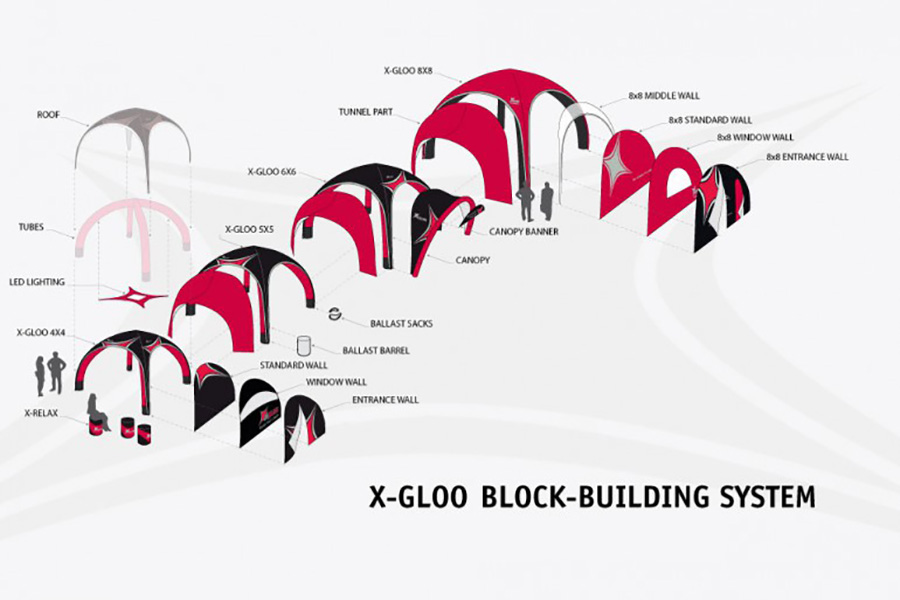 The X-GLOO will again be proudly taking centre stage on our stand at The Event Production Show. The X-GLOO is the ultimate event inflatable tent. Designed with the Igloo shape in mind, this German engineered product is a favourite amongst some of the world's biggest brands. Fully customisable to your branding needs and it's unique building block system, the marketing opportunities with the X-GLOO are limitless.
Come and experience the X-GLOO first hand at Stand B20E at EPS 2018.
Bigger Product Range to Showcase
Our product range grew considerably in 2017 which means we have lots of new display solutions to showcase to visitors at Event Production Show 2018. We will be taking elements from our Bespoke exhibition stand range, Modular display range, Portable exhibition stands, POS and Outdoor display ranges in addition to our UK exclusive products. You wanted more product to see, and we have certainly gone all out this year.
Talk to The Experts
With over 20 years in the events and exhibitions industry, we have a very strong team who are experts in their field. They understand the science behind experiential and event marketing and work with you to create the best solutions for your event.
We will have a team on hand if you wish to discuss any exhibition or event needs that you would like advice, direction or ideas on.
Competition Time!
When we said we were going bigger and better this year, we weren't being dramatic. This year we are holding 2 impressive competitions with very sought after prizes up for grabs.
We are giving away 2 Grand Stand Tickets to The British Grand Prix at Silverstone and a Nintendo Switch Console! To enter, simply visit us on Stand B20E.
Simply like our Facebook Page to be in with a chance of winning 2 Grand Stand Grand Prix tickets worth over £500 or take 1st place on our leaderboard to win a Nintendo Switch Console.
FREE Registration to Attend
The Event Production Show is absolutely FREE to attend and guarantee's a day filled with the latest innovations and product showcases in the live events sector. To register for your FREE pass simply visit https://www.eventproductionshow.co.uk/.
For more information on our attendance at the show or to find out more about our products and services, please contact us or call us on 01733 511030.