Posted on 12th Feb 2018 @ 8:37 AM
The outdoor exhibition season is fast approaching and outdoor marketing has never been easier with the relaunch of our complete flag range. We are proud to now offer the most competitive and easy to buy promotional flags on the market.
Offering maximum brand impact for outdoor events and exhibition, our flag range is versatile and functional and can be used indoor or outdoors in all events.
Our promotional flags are suitable for a wide range of events and exhibitions including trade shows, sporting events, festivals, country fairs, front of business and forecourts.
Why choose XL Displays for your promotional flag?
Simple 3 Step Ordering Process
Our simple 3-step ordering process offers a streamlined buying process which alleviates the stress of choosing which event flag and base is right for your budget.
Committed to delivering a cost-effective solution, we offer all our promotional flag kits with a choice of upto 8 inclusive bases for one great price.
Simply choose your shape, choose your size and choose you base, and we do the rest - it really is that simple.
This very competitive price includes a free carry bag and a free artwork checking service to ensure maximum quality – with no hidden charges and no compromise on quality.
Style
Our flag range offers 3 popular flag shapes – Feather flags, Teardrop flags and Sail flags. Feather and Teardrop flag shapes are available in 4 sizes – small, medium, large and extra large for those needing maximum brand visibility. Sail flags are available in a choice of 3 sizes - small, medium and large.
Our flags kits are supplied with flag poles, single sided printed graphic, a free carry bag and a choice between 8 bases - inclusive of price.
We also offer each shape and size of promotional flag as a flag and pole only product with the availability of separate bases. This is so our customers can tailor make their own event flag kit to their event needs.
Single and double-sided graphics are available on our flag and pole only products. The double-sided graphics are manufactured using two pieces of 115gsm flag knit material which are stitched together with a liner to prevent show through form the other side.
Range of Bases
We offer a wide range of bases which enable our promotional flags to be used indoors and outdoors on both hard and soft ground.
Our best selling and most versatile flag base is the large water base. The 30L hollow base features a rugged design which is suitable for use with any sized and shaped flag. It can be used on any surface and once weighted down, the flags can withstand wind speeds up to 18mph.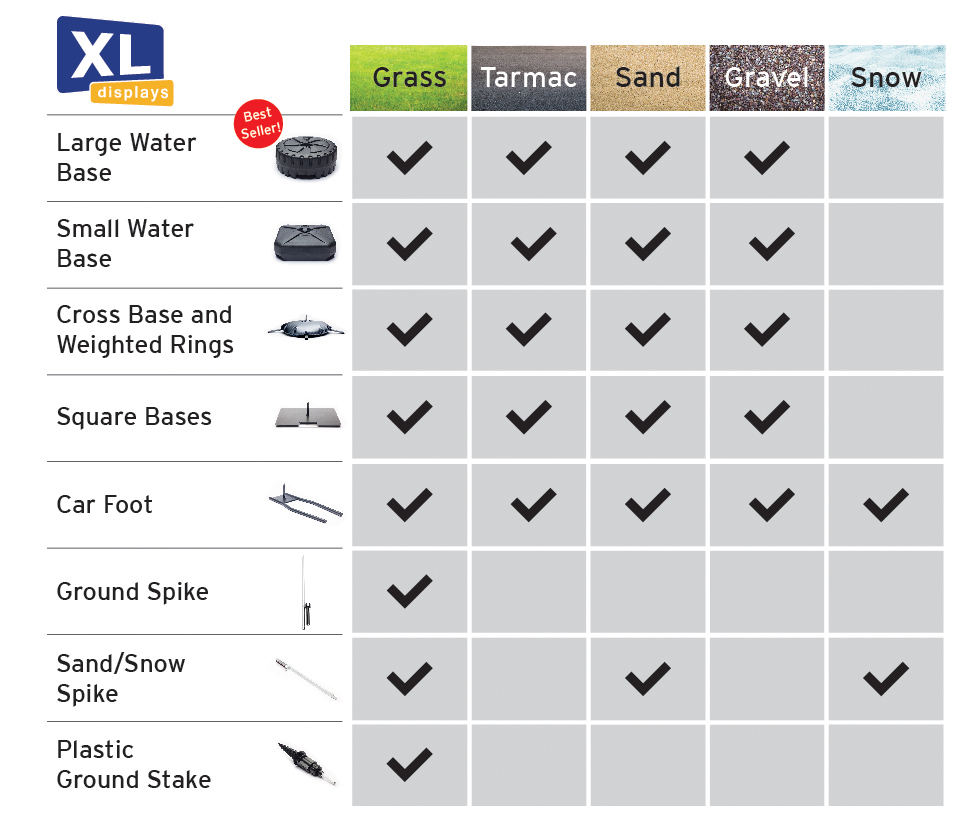 Our environment suitability matrix carefully shows what terrain each of our flag bases is suitable for allowing you to choose the right solution for your event.
The small water base has an internal capacity of 26 litres which can be filled with water or sand. This water base is for use with the small and medium event flags only.
The ground spike is for use on soft ground only and needs to be driven into the ground for secure anchoring.
The large cross base should be used in conjunction with the weighed water ring. This can be used with all sizes, small, medium, large and extra-large flags.
The drive on car foot is a popular choice for use in car showrooms and car forecourts as it requires the car wheel to keep it in place. This provides high level branding for promoting car brands or offers.
Other base options include a square base which is available in two sizes, a plastic ground stake and a sand snow ground spike.
Quality
Our promotional flags are printed on to high quality 115gsm flag knit material using the latest dye-sublimation printing process.
This printing process creates high quality print with exceptional detail offering your brand maximum marketing impact.
The artwork is printed directly into the weave of the fabric ensuring longer lasting, more vibrant artwork that won't crack, peel or fade after use.
Our promotional flags can be machine washed to ensure they are kept in pristine condition after every use. See our guide for help on how to care for your promotional flag.
The quality all fibre black pole is lightweight and flexible yet strong and durable to ensure maximum usage.
Portability
Lightweight and portable, our custom printed flag kits come complete with a free carry bag to ensure safe and easy transportation.
The specially designed carry bag features separate compartments for storing your flag pole and printed graphic separately.
The carry bag features an extendable shoulder carry handle, so you can comfortably carry your promotional flag when required.
Assembly
Our flags are supplied in multiple sections with simple assembly. Each section simply push-fits on to the next and the printed flag graphic simply slides over the pole and hooks on near the bottom of the pole via an elasticated toggle. This simple assembly ensures the printed graphic is firmly held in place.
No tools are required for assembly, and can be completed in minutes.
Fast Turnaround
We pride ourselves on being able to deliver high quality products at competitive prices in a fast turnaround, without compromise.
We dispatch within 72 hours upon receipt of print ready artwork. Our free artwork checking service ensure your design will be checked before going to print.
Have you had a look at our Trust Pilot Reviews? We have a 9.8 star rating with over 7800 genuine customer reviews.
At XL Displays provides high quality and excellent value portable exhibition displays such as pop up stands, pull up banners and printed tablecloths.
We also offer a custom exhibition stands, graphic design service and can create an exhibition stand unique to your needs and budget. For more information, please contact us or call on 01733 511030.