Posted on 9th Feb 2012 @ 9:02 AM
During the summer months, there will be hundreds of events and trade fair shows around the UK. With this in mind, it is time you considered using a roller banner stand for an extremely economical way of advertising your product or service.
It is always best to plan well in advance of your trade fair or event, allowing time to change your graphics and to ensure that the message you wish to get across hits the spot.
Cost-effective
Whether we are in a recession or not, every business is looking at ways to save money, but you do not need compromise on the quality of your advertising. Although many businesses may think it's a good idea to cut back on advertising, how else do you communicate what product or service you are offering? Having a roller banner stand is a very economical investment that can be used for many events. Your trade fair or event is your marketplace, and you need to ensure you advertise effectively.
You may also choose to opt for our replacement cassette banner. This cost effective solution is ideal for businesses who regularly change the banner stand graphics, simply order a new cassette with a graphic and effortlessly drop the new cassette into the base of your existing hardware. Our Imagine Replaceable Cassette Banner Stand is a great solution for this. With the replacement graphic cassette costing only £44, it's even cheaper than our most budget friendly banner; the Grasshopper roller banner at £49.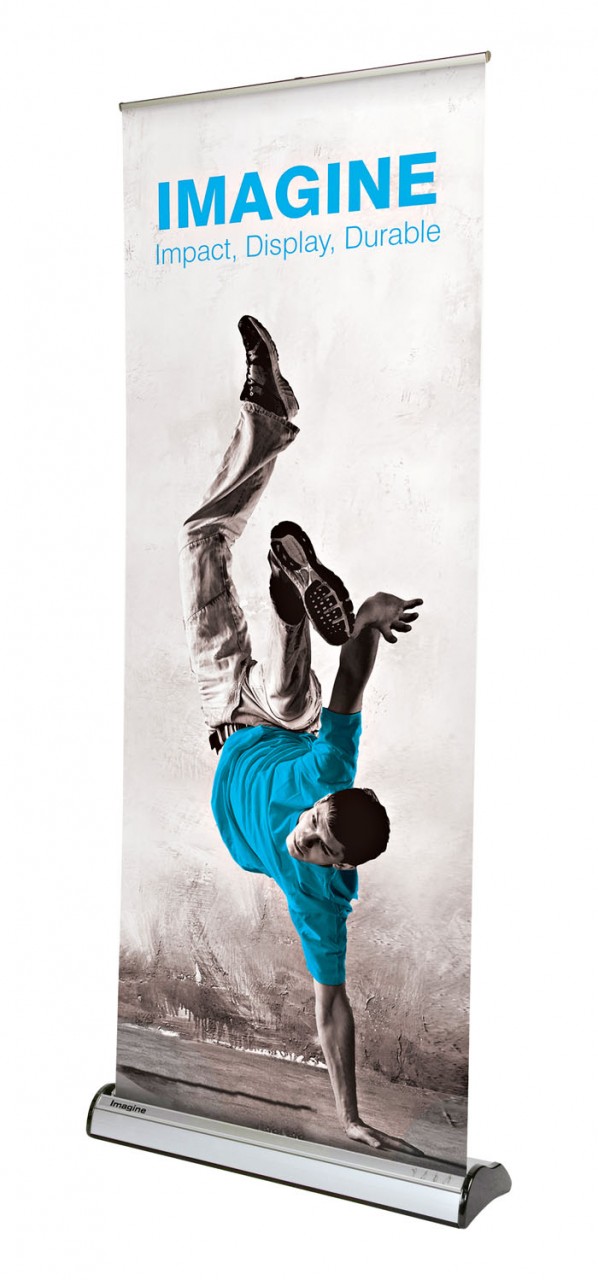 Easy storage
Apart from the economical cost of a roller banner stand, they are also extremely portable. The complete stand including base, telescopic pole and graphics come in a carry bag. The bag fits easily over the shoulder or carried by hand allowing for easy and hassle free transportation. The telescopic pole is dismantled for packing away. They only take a matter of minutes to assemble or dismantle. Roller banners are an incredibly lightweight marketing display, allowing for transportation and assembly to be effortless.
Suitable for a range of applications
You have worked hard, done your homework, and now it is time to announce to the world that you are here and are ready to show what you have to offer. Maximise your opportunities and draw those potential customers to you.
Roller banners are the perfect marketing tool for a wide range of exhibitions, displays, trade shows and marketing events. Roller banners don't take up too much floor space, allowing you to maximise your selling space and opportunities with materials such as leaflet holders and product displays.
Easy setup
All of our roller banners are effortless to assemble and dismantle. Simply pull out the pole from the base to your desired length, attach it to your base and pull your graphics up to attach to the pole - it really is that easy.
Maximises marketing message
If you have a new product or service launch, using a roller banner stand will provide you with a perfect platform for you to advertise and give your company the exposure it deserves. A range of roller banners are also available in a double-sided banner version, this allows for exposure to be increased as your marketing message can be seen from a wider range of angles.
You could also consider using a display light to enhance your graphics. These fit easily to the top of your display.
Our tips
When deciding on your graphic design, choose colours that will not clash with one another. It may also be a good idea to use a generic design to enable the banner to be used time and again, thus reducing the need for more expense. Having dates on your graphics is not always a good idea as this will mean it can sometimes be used for one event only. Any wording that may change is best left out. Fancy writing on the graphic of your roller banner stand may be difficult for some people to read, so keep the wording design simple but bold. Too many words on a display may end up looking too busy, and the passer-by may get bored and move on, so ensure you get your message across without doing an overload of information.

XL Displays banner stands are available for UK dispatch within 48 hours, ensuring those last minute displays are catered for.
For more information on our banner stands call us on 01733 511030 or contact us.