Posted on 7th Apr 2017 @ 1:09 PM
At XL Displays we are pleased to announce that we are the exclusive UK distributors of Signus ONE – an innovative inflatable pavilion. Inspired by kite surfing technology, the Signus ONE is designed and manufactured in the Netherlands. This premium exhibition product is ideal for both indoor and outdoor large events where you want your brand to get noticed.
This is a brand new product to the UK and is ideal for businesses that want to take their marketing to the next level. It can be used at any large scale, experiential marketing event, from festivals to motor shows, sporting events to trade shows, county shows to car showrooms and forecourts. Due to its quick assembly time, Signus ONE is also great for guerrilla marketing, sampling and other pop up marketing occasions.
Unique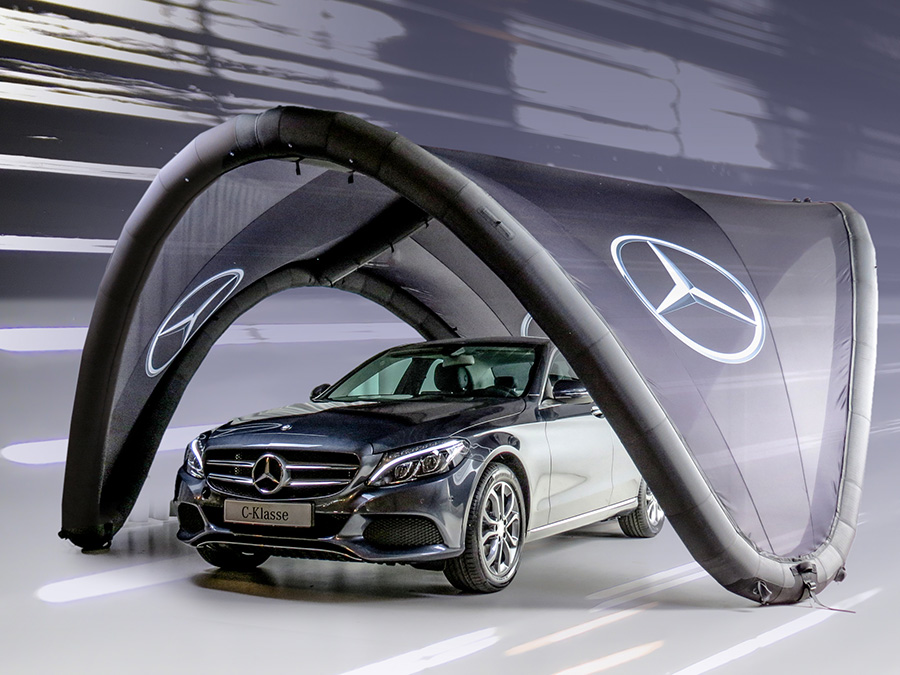 Signus ONE has a unique organic shape – there is no other event tent like it on the market. With a sleek design and smooth curves, the Signus inflatable pavilion will make your business stand out from the crowd at any event.
Available in three sizes – 4m, 5m and 6m – this event tent guarantees visibility and brand exposure like no other exhibition display.
What's included?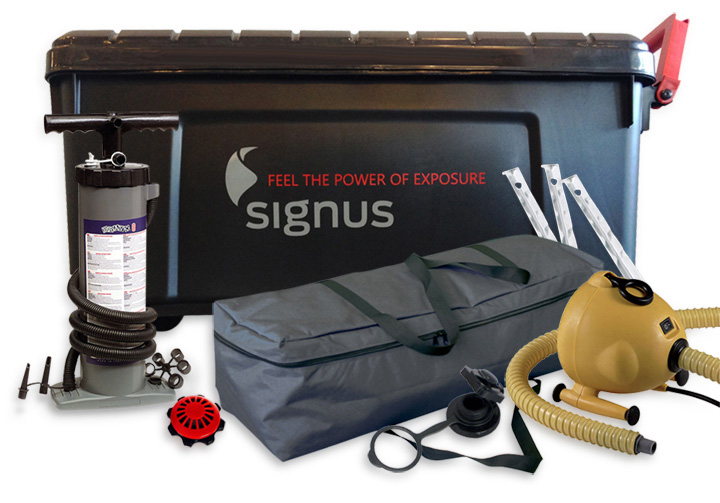 Our Signus ONE event tent kits include everything you need to use the system immediately. For all sizes, each Signus includes:
Inflatable frame in black or grey

3x plain white, water-resistant cloths

3x printed roof cloths (branded products only)

1x trolley box

1x accessory bag

1x electric pump

1x hand pump

1x tent peg set

1x valve set
How does Signus ONE work?
Signus ONE's clever design makes it look like it is a one-piece structure but it is actually a three layer system. It comprises an inflatable frame and two layers of roof cloths. The first layer of roof cloths is a water repellent, plain white fabric which is needed when the Signus is used outdoors. The second layer of the roof is a custom printed fabric cover for maximising brand exposure. Each fabric layer consists of three kite-shaped roof cloths which join onto the frame to create the cover.
Customise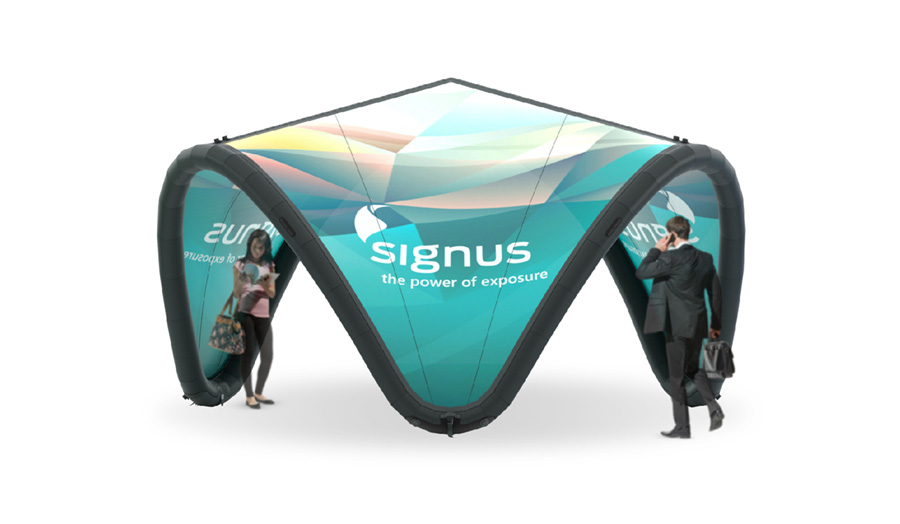 Signus ONE can be customised with your artwork or branding. If you purchase a branded option you will get three roof cloths printed with your branding or artwork. These roof cloths simply zip onto the frame to provide a fully branded inflatable pavilion with high impact marketing potential.
You can choose to have the same artwork printed on each piece or different artwork to create a design which encompasses the whole roof.
Signus ONE is a very versatile product as the printed roof panels can be interchanged. If your marketing messages change or you need different designs for different events you can simply buy replacement roof panels rather than buying a whole new Signus.
Each branded Signus also included a set of three plain white roof cloths. These water resistant panels are recommended for use outside but because the plain and printed roof panels are attached separately using zips they can be used in any combination. For example, is you are at an indoor exhibition or an outdoor event when you know the weather will be dry, use the printed cloths only.
Set up
The Signus ONE pavilion is easily installed by one person in only 10 minutes. Simply zip the roof pieces onto the frame and then inflate the frame. This can be done using the electric pump supplied and takes just 10 minutes. Once inflated position correctly and secure with the recommended anchoring system. A hand pump is also included for use when access to power is limited or unavailable. See our installation video to see how easy it is to set up Signus ONE.
Portable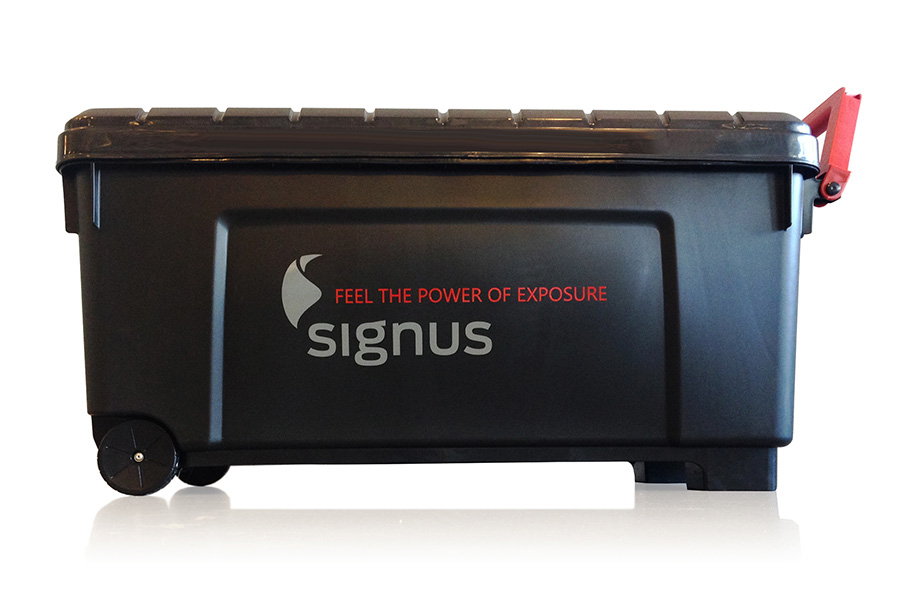 Despite its inflated size, each Signus ONE tent packs down into a surprising small package which can be stored and transported easily into the trolley case provided. All accessories, such as pumps and pegs, will fit into the accessory bag provided so you can transport the whole kit in just two cases.
Quality
Manufactured using the highest quality materials, Signus ONE is strong, robust and can be used time and time again. The inflatable frame is made from hardwearing 180g Dacron material and comes in black or grey. The plain white, water-resistant roof covers are made from ripstop, PU coated polyester material which is fire retardant and UV resistant.
If you choose a branded Signus, three roof cover pieces are made from 115g polyester which is printed through dye-sublimation. This process fixes the ink directly into the weave of the fabric resulting in permanent, durable print which will not rub off, fade, crack or peel. Your artwork or branding is printed in full colour to photo quality print.
Plain and printed fabric panels are attached to the inflatable frame using high quality YKK zippers.
Weatherproof
The Signus ONE is weather proof so can be used indoors or outdoors. When using outdoors it is necessary to use the white roof covers – these are water resistant so provide protection during wet weather.
We offer a range of anchoring systems to ensure the Signus is stable when in use. Included with each Signus ONE kit is a set of three tent pegs – these are for use on hard soil or grass. If you want to use the Signus on snow or sand, the anchoring screw set is for this purpose. Both anchoring pegs and screws will keep the SIgnus stable in winds up to 20-29 km/h Beaufort Scale 4.
Our heaviest and most secure anchoring option is water barrels. These durable, black PVC barrels are supplied in a set of three – one to attach to each Signus leg. Each barrel can hold up to 80 litres of water and when full and attached, the Signus can withstand wind speeds of 30-50 km/h Beaufort Scale 5/6. For extra marketing space the barrels can have a custom printed cover and when full can also act as seating on your stand.
Why Choose XL Displays?
Exclusivity – XL Displays is the sole UK distributor of Signus so you cannot buy this premium product from any other supplier within the UK
Award winning customer service – we pride ourselves on providing the best possible customer care.
Try before you buy – see what a Signus will look like with your branding by using our FREE 3D rendering service. One of our talented designers will create 3D images so you can see for yourself how effectively Signus will promote your business.
Graphic design – we offer a full graphic design service and can create a design for Signus for you in line with your brand and corporate requirements.
Artwork checks – you can provide your own artwork for Signus which we will thoroughly check before printing to ensure it will result in the best possible result.
No obligation – all of our advice, consultations and quotations are free of charge and there is no obligation to proceed.
Customer reviews – our customers are our best advocates. To find out what they think of us go to independent review site Trustpilot.
For more information on Signus ONE or to arrange a free Signus consultation with an exhibition stand manager please contact us or call 01733 511030.