Posted on 26th Aug 2016 @ 3:32 PM
As an authorised distibutor of the X-GLOO Inflatable Event Tent, we were recently awarded the 'Gold' selling status by the manufacturer of the X-GLOO, Skywalk. We have been a distributor of the X-GLOO since January 2016 and are proud to have been awarded gold status in such a short amount of time, as this puts us amongst the top 10 X-GLOO distributors in the world.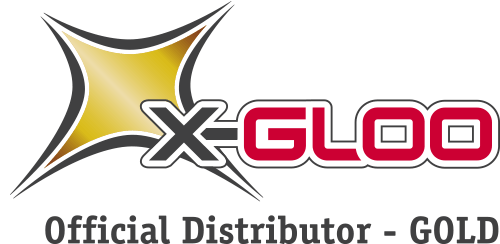 Being awarded Gold status by the manufacturers of the X-GLOO verifies our expertise with these products. It assures our customers that we have the knowledge and capability to deal effectively and efficiently with the X-GLOO. We also pride ourselves on being able to support our customers with award-winning customer service, before, during and after their purchase.
The X-GLOO is an Inflatable Event Tent designed with the iconic igloo shape. It offers limitless customisation and brand potential with custom printed artwork and a wide range of components such as walls, canopies, banners and tunnels.
X-GLOO event tents are available in 4x4, 5x5, 6x6 and 8x8 configurations with either plain colours or custom branding.
5 Reasons to Buy an X-GLOO Event Tent from XL Displays
Gold Selling Status – We are amongst the top 10 re-sellers of the X-GLOO in the world. Let us assist you with our expertise on the product.
Award Winning Customer Service – As customer service award winners, we pride ourselves on providing the best quality service possible throughout the selling process.
Price Match Guarantee – Have you seen the X-GLOO elsewhere at a cheaper price? We'll match this price on like-for-like products.
Free 3D Visualisation & Render – We can produce a complete 3D render of your X-GLOO with your branding and selected components so you can see what it'll look like before you receive it.
Range of Service Options – We offer a range of service options, such as in-house graphic design, tent checking and repairs.
Here's why the X-GLOO is one of our best-selling display products for large events:
Quality
The X-GLOO Inflatable Event Tent is designed for use in most environments. It is waterproof, fire retardant (B1 Certified), stable in winds up to 60 km/h when properly anchored and also provides an Ultraviolet Protection Factor (UPF) of over 50 to protect your staff and visitors on sunny days.
The X-GLOO has been tested to withstand long-term use in any weather and provides exceptional shelter from harsh environments such as sand, snow, heat and cold.
Block Building System
The unique block building system of the X-GLOO features a selection of different elements that can be added to the main tent. These optional elements include walls, window walls, canopies, linking tunnels, banners, entrances and more.
Many of the elements are simply attached with a zip to the main tent. The X-GLOO features high quality YKK zippers which means double sided components can be fitted either way.
The block building system also allows you to grow and expand your X-GLOO tent as your business grows by adding new components and even combining new tents together to create a larger space.
Portability
For a structure of its size, the X-GLOO event tent is surprisingly lightweight, weighing in at approximately 13.3kg for the 4x4m size. Despite being lightweight it is still ideal for outdoor use thanks to the aerodynamic form, high tech materials and clever stabilisation system.
The smaller sized X-GLOOs can be packed down into a small backpack which is easy to carry and transport. The larger X-GLOO sizes require an aluminium carry case which is designed to protect your tent from damage during transport.
Appearance
All parts of the X-GLOO Inflatable Event Tent are designed to be aesthetically appealing, from the inflatable legs themselves to the components, such as walls, canopies and tunnels. The sleek and attractive appearance earned the X-GLOO the prestigious Red Dot Design award.
An LED lighting system is available as an optional extra, this can improve the appearance of your X-GLOO tent, especially in dark venues, by illuminating your artwork.
Almost all components of the event tent can be custom printed with your artwork, allowing you to turn your system into a display that completely represents your brand.
Easy Setup and Disassembly
The X-GLOO is easy to set up and dismantle thanks to the 4 tube design. Depending on the size chosen and the pump used, the X-GLOO can be set up by a single person in just a few minutes. Once the tent is inflated the pump can be removed and the tent will stay inflated for multiple days at a time.
The four tube design of the X-GLOO also makes it easy to repair. All of the tubes are separate from one and other and can be individually unclipped from the central anchoring point. As the tubes are detachable, only the affected part need to be removed for repair.
Free 3D Visualization and Render
At XL Displays we offer a free 3D visualization service, creating a 3D render of your X-GLOO event tent with your design. We can create a mock-up of your X-GLOO including various elements such as walls, canopies, tunnels and banners.
We can also include a range of other components to the mock-up such as flags, cars, counters and people so you can get a feel for what it will look like when it is fully set up and in use at your next exhibition.
If you don't have artwork yet, we offer a professional graphic design service and can design your X-GLOO for you based on your brief.
All of our service options are designed to support you before, during and after the purchase of your X-GLOO inflatable event tent.
Available Accessories
The X-GLOO event tent features a range of accessories that help in the setup, anchoring and transportation. Water ballast barrels and tube ballasts are excellent for hard-ground anchoring and peg sets are available for soft ground anchoring. Wall ballasts are also available which are great for anchoring the walls to your X-GLOO.
A hand pump comes as standard, however if you're looking for a quicker setup process, the Electric Pump, Electric Turbo Pump and the 8x8 Pump are also available.
When setting up your X-GLOO outdoors, Protection Foil is ideal as it is placed under the tent during setup, protecting it from mud, dirt and grass stains and allowing it to looks its best for the event.
We are an official UK distributor of X-GLOO and we pride ourselves on providing high quality exhibition and display equipment.
At XL Displays we offer award winning customer service – our customers are at the forefront of our work and we do everything we can to ensure they all have the same excellent experience when dealing with us.
Contact us or call us on 01733 511030 to find out more about our range of exciting X-GLOO UK Inflatable Tents.