Posted on 3rd May 2016 @ 1:59 PM
Spring is here and summer is on its way so what better time to start thinking about outdoor promotion.
So this month our Product of the Month is our Pavement Signs.
Outdoor pavement signs are a great way of promoting your business and offers to passing customers, by literally getting your marketing message out on to the street.
Our pavement signs are available with or without print and provide a professional display solution which is ideal for use outside cafés, shops, restaurants and bars on the street, pavement or forecourt.
Pavement signs are a cost-effective outdoor display solution which can be very successful at drawing in passing customers.
The Benefits of a Pavement Sign
Easy to use - simply place in the desired location and leave to work its magic

Cost effective - whether your business is olarge or small you always need to look after your budget and get the most you can for youe money. Our pavement signs start at just £21 so are great value for money

Wide range of styles available - we offer a range of styles from aluminium frames to wooden chalkboards which are perfect for many different applications

Choice of frame colours – with a wide range of colours available there is something to suit your brand

Range of sizes - from A2 to A0 and sizes in between, you can choose to make your pavement presence as big as you have space for

Available with or without printed graphics – we offer printed graphics with all our pavement signs which provide you with a professional display

Ideal for use outside cafés, shops, restaurants and bars on the street, pavement or forecourt
Our Top 3 Pavement Signs
Here are our top 3 pavement signs and why they are a must have for promoting your business outdoors this summer!
Whirlwind Pavement Sign
One of our bestselling outdoor pavement signs, the whirlwind, is ideal for displaying posters outside, garages, petrol stations, shops, business premises and on pavements and forecourts.
The spring loaded sign and weighted base means it is able to withstand winds up to approximately 15-18mph making it suitable for typical English weather.
It features a hollow toughened plastic base which can be filled up with water or sand. This weighs down the pavement sign to prevent it from tipping over or blowing away.
It a heavy duty double sided pavement sign which offers quick and easy poster changes – perfect for any business which changes its promotions and offers frequently.
The snap frame poster holder holds 4 sizes – A1, A0, B1 or B2 and prices start at just £74.69.
Wooden Chalkboard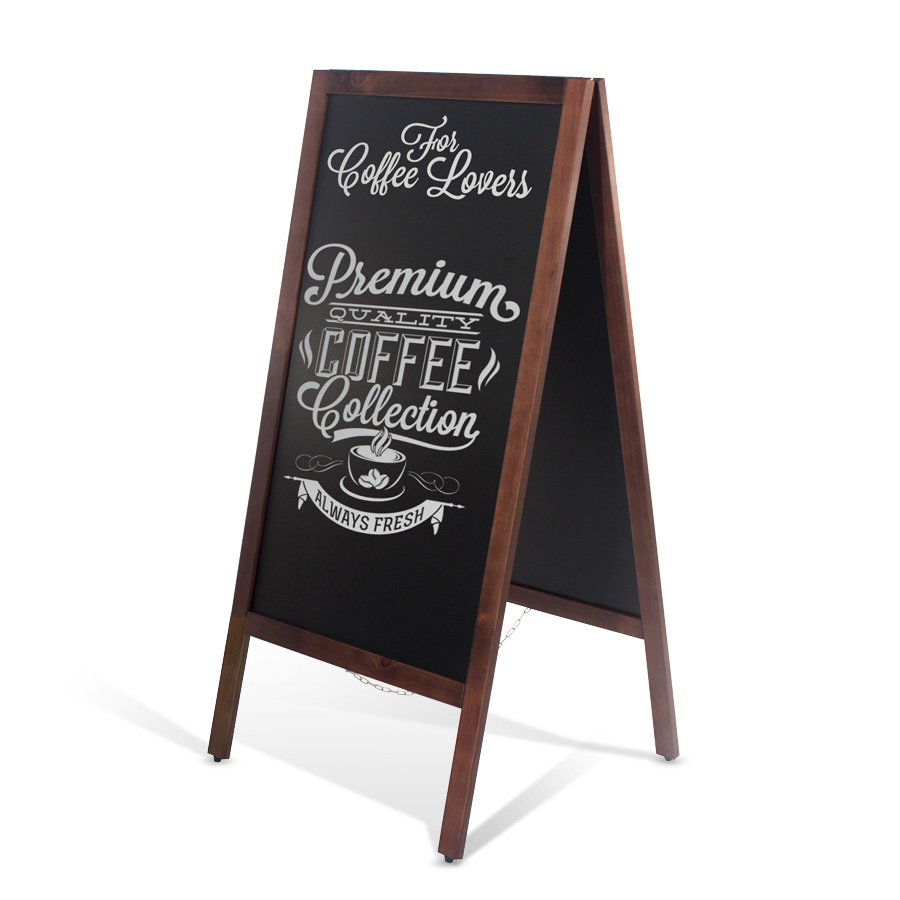 Our wooden chalkboard pavement sign is a excellent choice for anyone looking to promote their business and offers outdoors and costs as little as £53.23. Chalkboards are very popular as there is no extra cost for posters or graphics –you simply write directly onto the board and wipe clean when you need to change your message.
It offers a durable and premium quality product that would look fantastic outside any cafe, restaurant, pub or shop.
Available in 2 sizes, this pavement sign features durable rubber feet, modern chrome hinges and a tensioning chain which gives excellent strength and durability.
Our chalkboards are supplied with a pack of 4 coloured liquid chalk pens so you can change your message at any time.
Pen colours include red, yellow, green and white and simply wipe clean with a dry cloth.
Swing Sign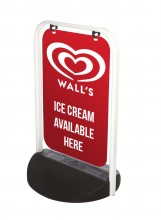 Our swing sign is ideally used by retailers and restaurants. The Swinger Sign is great for grabbing attention of passers-by and catches the eye easily. With prices starting from just £54.00, it's a cost-effective solution.
Its weighted black rubber base means the sign can withstand high winds, and its rounded shape provides stability to help prevent it from tipping over.
The attractive pavement sign allows you to promote your business and offers with a modern look and feel.
Available in two sizes and with poster prints this swing pavement sign is a popular choice and is easy to move inside when not in use.
Also available is the Flex Sign which is a great alternative to the swing sing.
Other pavement signs in our range include:
A Frame Pavement Signs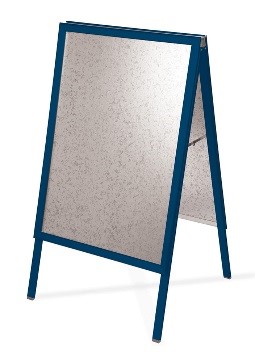 A frame pavement signs are a popular and cost effective choice, with prices starting at just under £35.
We offer A boards with silver or coloured frames and all options can come with full colour printed posters – perfect for promoting products or services. They feature an aluminium frame with heavy duty steel back panel. This A Board is sturdy and stable and folds away easily for storage.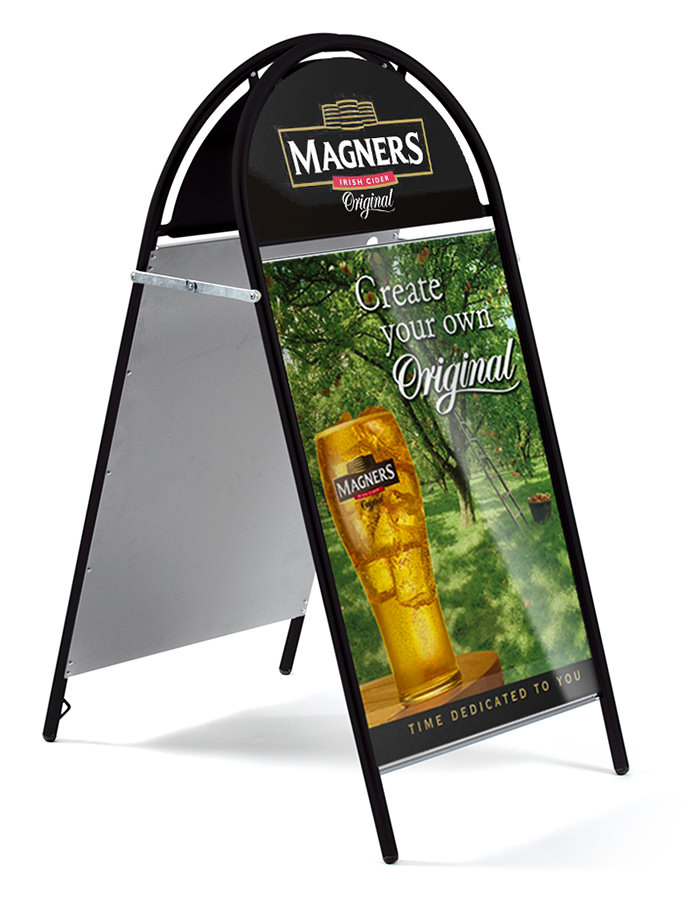 Our Booster A frame sign also includes a header panel which is perfect for printing your logo on. This is an addition to the poster prints which are available in 3 sizes.
Price start from just £74.80.
The double sided pavement sign features anti-glare poster covers which are magnetic, making changing posters quick and easy. The fold away mechanism means it is easy to transport and store when not in use.
The Sign Board Lite is a simple, yet sturdy, A frame sign board. It is our most cost effective and lightweight, portable advertising solution. From just £21.00 it is ideal for use as a directional sign or for short term promotional needs.
For more information about our pavement signs or help with selecting the right outdoor display for you, please contact us or call us on 01733 511030.